This is the question that comes up most often when domestic customers call us about a problem they are having with drains on their property.
Why does it matter?
If the drains are your responsibility, then you must pay for blocked drains to be cleared and all drain repairs. If however, the drains are the responsibility of the local water authority, then "it's happy days", because they must do any repairs and you don't pay a penny. So it is quite important to know.

Drain responsibility explained
This shows how drain responsibility affected by different types of property.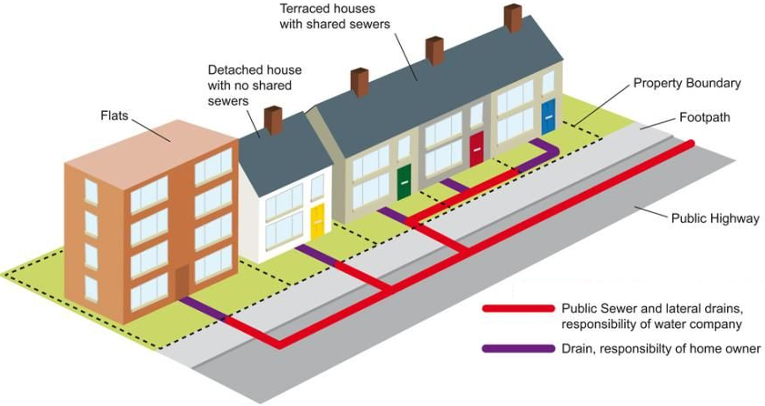 Detached houses
Assuming the property has no shared drains, the homeowner will be responsible for the drains up to the property boundary (purple), and the local water authority will be responsible for blockages in the main sewer and lateral drains (red).
Terraced or semi-detached houses
If you have a drain that is shared with your neighbour, the water authority will be responsible for the shared drain as well as the lateral drains (red). You are only responsible for the drain on your property that is not shared (purple).
Flats or apartments
If you live in a block of flats or apartments, the management company are responsible for all drains up to the property boundary (purple) and the local water authority for drains beyond that (red).
How can you tell if you have shared drains
Call your local water authority (www.thameswater.co.uk or www.southernwater.co.uk) and they will be able to advise whether your blocked drain is a shared drain. If it is shared they will come out. If it isn't you will need to contact a drain contractor, such as Drain Detectives.
Is someone telling you something different?
Your friend or neighbour might not be aware of the changes that the government made in October 2011, which meant that the responsibility of shared drains on your property or lateral drains has been transferred to the local water authority from the homeowner. See the government website.
What is a lateral drain?
A lateral drain is a pipe which carries wastewater away from your home. It is located outside the boundary of your property, often under a public pavement or road and joins up to the public sewer in the road. Prior to the change in the law in 2011, a lateral drain was the responsibility of the homeowner but is now the responsibility of the local water authority.
What about private sewers?
All the above information assumed that your property was linked to a public sewer. If however you live on an unadopted road and have a private sewer, you are responsible for the cost of maintaining and repairing it. If the sewer serves a number of properties, all the owners are jointly responsible for any costs.
Further information
There is more detailed information about water and sewerage on the OFWAT website www.ofwat.gov.uk.