If you are thinking of building an extension to your property or adding a conservatory or garage, then you will need to know where your drains are.
Your drainage will by default be underground making it very difficult to see.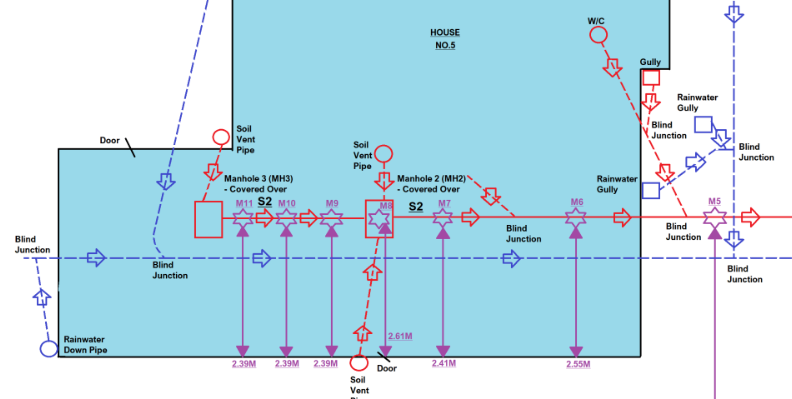 Why would you need to know where your drains are?
Your builder or architect needs to know the location of the drains as they may run under where your new extension is going to be built. The architect may want to move a manhole, so that it is not on the floor of your new kitchen.
Secondly, the drains on your property may actually be shared (meaning that they contain the waste from another property) and that the drains could be the responsibility of your local water authority.
If you are building within 3 metres of a shared drain (also known as a sewer) then you would need to get permission from your local water authority.
To get permission from the local water authority, you will need to provide a plan showing the layout and exact location of the drains on your property.
Where can I get a plan of the drains on my property?
There may have been a map of the drains left from the previous owner when you bought your home. This would definitely be a good starting point.
Your next point of contact should be your local water authority? In the area we cover, that would be Thames Water, Southern Water or Anglian Water.
For all three local authorities you can pay to download a map showing the surface water and foul sewers. There is also an option to visit their offices to get the map for free, but unless the office is close by, I would stick to downloading.
Will the water authority sewer maps give me all the information I need?
Southern Water openly admit on their website: "The maps we hold may not be accurate and up to date but will give you an indication of where our pipes are positioned. Further on-site investigation may be required to determine the exact locations which would be the responsibility of the homeowner to do".
Water authority records are are quite often out of date, inaccurate and incomplete. However the main issue with their plans is that they will only ever show shared drainage and not any of your private drainage.
What information should be included in your drainage plan?
The following should be included as a minimum in all drainage plans:
Diameter of the pipe
Pipe material
Flow direction
Whether it is foul, surface or combined
Is it shared or private
Depth of manhole
The following might be required by your builder, architect or water authority. Sonde and trace equipment will be used to find this information.
The exact location of your drains
The exact depth of your drains
So how do I get an accurate, up to date plan of the drains on my property?
You need to find yourself a drainage company who are confident carrying out cctv drain surveys. Believe me this is not always the case.
We are quite often sent cctv drain survey reports from other companies so that we can give comparison quotes to repair defects found in a drain survey.
The variation in quality can be staggering. All of our reports or created on specialist wincan software which creates an easy to understand report.
However, we have seen some excellent reports created in microsoft word and incomplete and confusing reports produced using expensive software.
At Drain Detectives we have a dedicated survey team whose job is to review the footage and site plans provided by our engineers and produce a quality report.
Always ask any drainage company for an example report and site plan before asking them to provide a drainage plan for your property.
That way you know that the you will receive the information your require.