Drain rods are probably the first tool your drain engineer will reach for when he arrives at your property to clear a blocked drain or manhole.
However, a week doesn't go by when we don't get a call from a frustrated customer who has got drain rods or an attachment stuck in the drain.
In experienced hands, drain rods are perfect for clearing a drain blockage.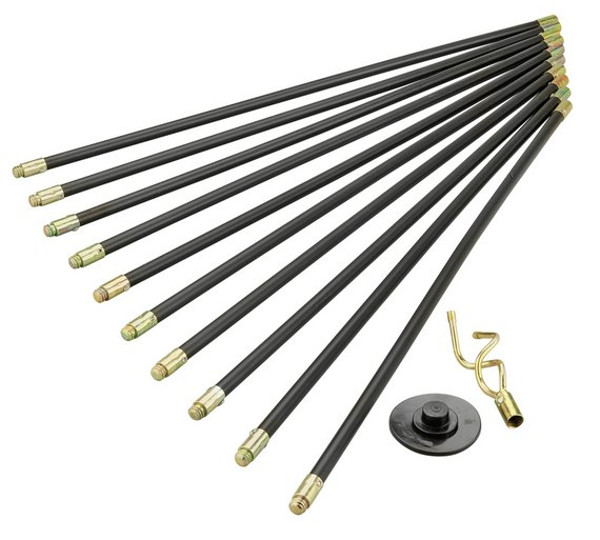 It is so tempting when you are quoted £85 or more by a drain cleaning company, to instead nip down to your local DIY store to buy drain rods (only £21.00 in Argos) and do the job yourself. What could possibly go wrong?
Beware drain rods that screw together
Cheaper drain rods bought at a DIY store, for domestic drain cleaning purposes, will normally just screw together, nice and easy.
This is not usually an issue until the rods get a bit stuck and the person using the drain rods, pulls and pushes, trying to get them free, forgetting that if they twist them anti-clockwise, the rods will come undone.
Drain engineers will use more expensive lock-tight rods for this reason.
When drain rods are your only option
If drain rods are your only option to clear a blocked drain, then you are going to persevere, forcing rods around tight bends or traps, with an increased likelihood of the rods getting stuck on roots or a displaced joint.
A drain engineer will have the option to use a high-pressure water jetter.
A contractor, with their experience, will know when they come across an obstruction using drain rods, whether they would be able to clear the line with rods, or if in the case of roots or fat, they need to use the jetter.
How do you remove trapped drain rods?
Now is the time to call a local drainage company. Remember when you were quoted £85 fixed price to clear a blocked drain. Well, that "ship has sailed".
You will now be offered an hourly rate to retrieve the drain rods. If you are lucky the rods can be flushed out with a jetter. If that fails, you are relying on a combination of cctv and drain engineer ingenuity, which isn't cheap.
Don't be like Bob
Bob is a pub landlord in Croydon. He had a blocked drain at the back of his pub and mentioned this to a member of staff behind the bar.
Keith, one of the regulars, overheard and said "I have got some rods back at the house. I can sort that for you, for the price of a few drinks".
Bob doesn't want to spend money on getting the drains unblocked, so he agrees to Keith's suggestion. Bob doesn't realise that Keith has never used drain rods before. He found the rods in the loft when he bought his house.
After a couple of hours, Keith trapped the rods in the drain and Bob had to pay £480 to a drain company to clear the blockage and retrieve the rods.
Bob was not very happy. Keith is now a regular at a different pub.